Delicious and Soothing Chicken Bone Broth soup Recipe
This broth is fantastic especially if you're having a gastritis flare, it's soothing and nourishing and it's super easy to make. It contains Collagen and gelatin which contain anti-inflammatory properties, these are released from the bones as you cook them.
The first time I tried Bone broth I had been struggling with my appetite, when I tried eating anything I felt full after just a couple of bites. I slowly sipped on this broth throughout the day and the relief was almost instant.
The nauseous feeling disappeared and my stomach just felt very settled, and weirdly I actually had a glimmer of appetite, to say I was surprised was an understatement.
It's a brilliant base for soups, casseroles and gravies, it just gives everything so much more flavour and it's good for you too!.
So how do you make this amazing broth? well, it's very easy, especially if you have a slow-cooker, but you don't need one.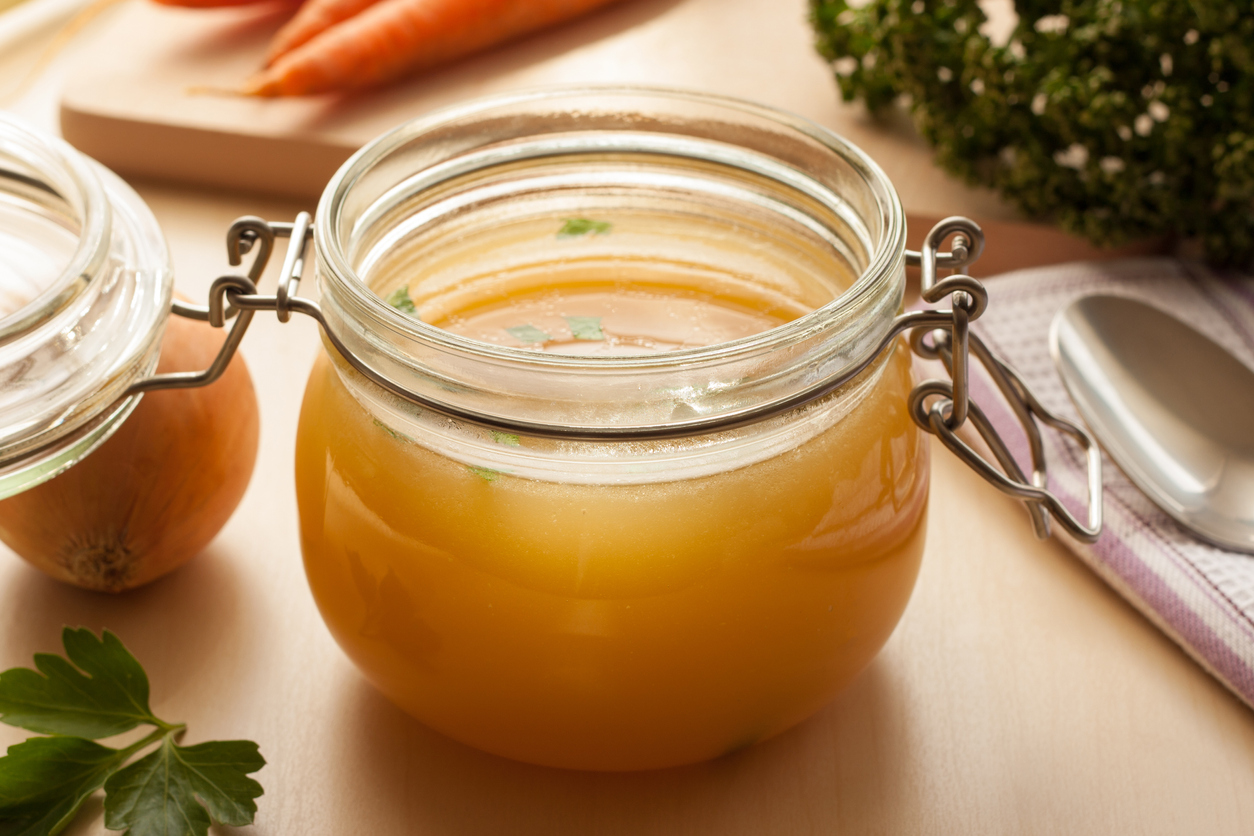 Chicken Bone Broth for an inflamed stomach
Help heal your gastritis and inflamed gut with this Delicious Bone Broth
Equipment
1 Saucepan with lid

or a Slow-Cooker
Ingredients  
1

The carcass of Roast chicken or use Chicken thighs/feet bones

2

Carrots peeled and cut into chunks

2

Sticks of celery

1

Onion halved (if tolerated)

A pinch

Himalayan salt

1

tsp

Parsley or Coriander

1

Bay leaf
Instructions 
We often have a whole chicken on a Sunday, so once all the meat has been cut off, I literally pull the carcass apart a little and pop it in my slo-cooker.

Then add some vegetables, I use celery and carrots, but if you can tolerate onions that would be good too.

Add a pinch of Himalayan pink salt, and a teaspoon of parsley or coriander and a bay leaf.

Then add enough water to just cover everything pop the lid on and leave for at least 12-18 hours, if you can leave it for 24 hours to get all that goodness out of those bones even better.

Then strain the broth through a colander and then to get all the bits out, put it through a muslin cloth too.

I store mine in plastic containers and freeze them, but you can leave the broth in the fridge for up to a week.

You can either use it as a base for a soup or just sip it throughout the day.
Chicken bone broth, Concentrate or ready made
Although of course making your own is always going to be nutritionally better, sometimes you just don't have the time. I have tried a few ready-made Bone broths, and some are pretty good while others contain far too many additives and salt. These are the ones I have tried and enjoy as an alternative to homemade.
Chicken Bone broth Powder – This powder is a good quick option, it has zero added additives and tastes really good. Bluebird Provisions Bone Broth
Chicken bone broth Concentrate – This is another quick but delicious broth. You basically just add water, heat and stir until dissolved. So takes no time at all. Plus it's made with all organic ingredients. Birthright Chicken Bone Broth Concentrate.
Ready to drink – I love this one, it has a mild taste but I find it very soothing. It also has the benefit of having Tumeric and Ginger added, both of which I find great for my stomach. I know not everyone tolerates Tumeric though so may not suit some people. Proper Good Chicken bone broth
Healing Bone Broth