When you have Gastritis or other digestive issues your diet is going to be restricted and you can end up having to eat different meals to the rest of the family. I followed a very strict diet when I was healing my Gastritis and found it really difficult to find meals that suited me and my family.
This dish is one that everyone in my family enjoys, they don't complain it's too bland and my stomach has no issues with it, so all in all it's a win-win.
I don't use gluten-free spaghetti as I have no problems with gluten but obviously, if that's something you don't tolerate then swap away. The same for the cheese, if you are following a dairy-free diet then leave this out.
The meatballs freeze really well, so make double the amount, cook and then freeze in batches and you'll have another meal ready to go when you need it.
The same goes for the NO tomato sauce, I always like to have a few freezer bags of this stored away. You can make a big batch of the sauce and freeze it into smaller portions in freezer bags or pots, then you will have it on hand when you need it for a pasta dish, pizza topping etc.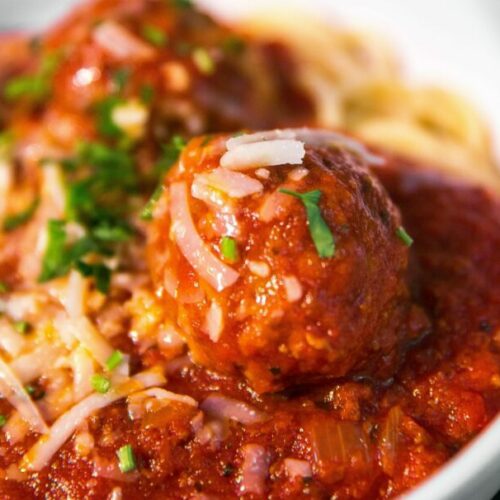 Turkey Meatballs & Spaghetti with NO Tomato Sauce
This delicious Spaghetti dish is full of healthy vegetables and avoids the ingredients that many Gastritis sufferers generally can't have. The No Tomato sauce is so delicious, it will almost make you think you are eating the real thing.
Equipment
1 Baking tray

Parchment paper

2 Saucepans

Blender (hand held one will do)
Ingredients  
For the meatballs
500

g

Turkey Mince

1

tsp

Dried Oregano

1

handful

Fresh basil, chopped fine

1

Egg

400

g

Wholewheat Spaghetti (Gluten free if you dont tolerate wheat)

1

Pinch

Salt

Parmesan or Cheddar cheese (Optional)
For the NO Tomato sauce
1 

Courgette (Zucchini)

5

Medium Carrots

2

Sticks Celery

2

Plain Beetroots

1

tsp

Oregano

100

ml

water

pinch

Himalayan Salt
Instructions 
Add the Turkey mince, half the Basil, Oregano, Egg and Salt to a mixing bowl and combine well.

Roll into 12 balls and pop on to a baking tray covered in parchment paper.

Cook for 15-20 mins (You can also cook in a saucepan on the stovetop for 10-15 mins)

Whilst the meatballs are cooking it's time to prepare the vegetables for the NO tomato sauce.

Peel the carrots and courgettes and chop into chunks, chop the celery and the beetroot.

Add all the vegetables to a large saucepan with a teaspoon of Oregano, then add the water.

Bring to the boil and then simmer for 30-40 minutes until all vegetables are soft.

Then pour the mixture into the blender and blitz until completely smooth.

Add the No tomato sauce to a saucepan to warm through and then pop the meatballs into the sauce and give them a gentle stir.

Cook the Spaghetti in boiling water for 10-12 minutes and then drain

Serve the meatballs and sauce on top of the spaghetti and add a sprinkling of parmesan or cheddar cheese (if you eat dairy) then sprinkle some chopped fresh basil on top.
Notes
The Meatballs can also be cooked in a saucepan on the stovetop, but this usually means you will need to add oil which some people don't tolerate well. 
The Calories in this dish are an estimate based on average calories in the various ingredients.