Everyone is different with what they can tolerate, but for most people with Gastritis eating a bland diet is what usually seems to help the most.
When I have a flare-up, I have nausea, my stomach will feel full and I certainly have no appetite, sometimes my stomach will hurt but not always. The problem with Gastritis diets is that everyone is different, one person may eat 4 Bananas a day and find they are the only thing that settles their stomach but for others, even one Banana will cause them a huge amount of pain.
Having said that, there are certain foods that most Gastritis sufferers can tolerate. This is an example of my daily diet when suffering from Gastritis, of course, there may be things on here that won't agree with you, sometimes it's just a case of trial and error.
If you aren't sure you are ok with something, just try a small amount and then wait a couple of days, if your stomach is ok with it then you should be ok to have that more regularly.
I also keep my meals small, eating a large meal is very tough on your stomach and your digestive system as a whole. So having three main small meals and then two snacks will help your body process the food more quickly and not overload it all at once.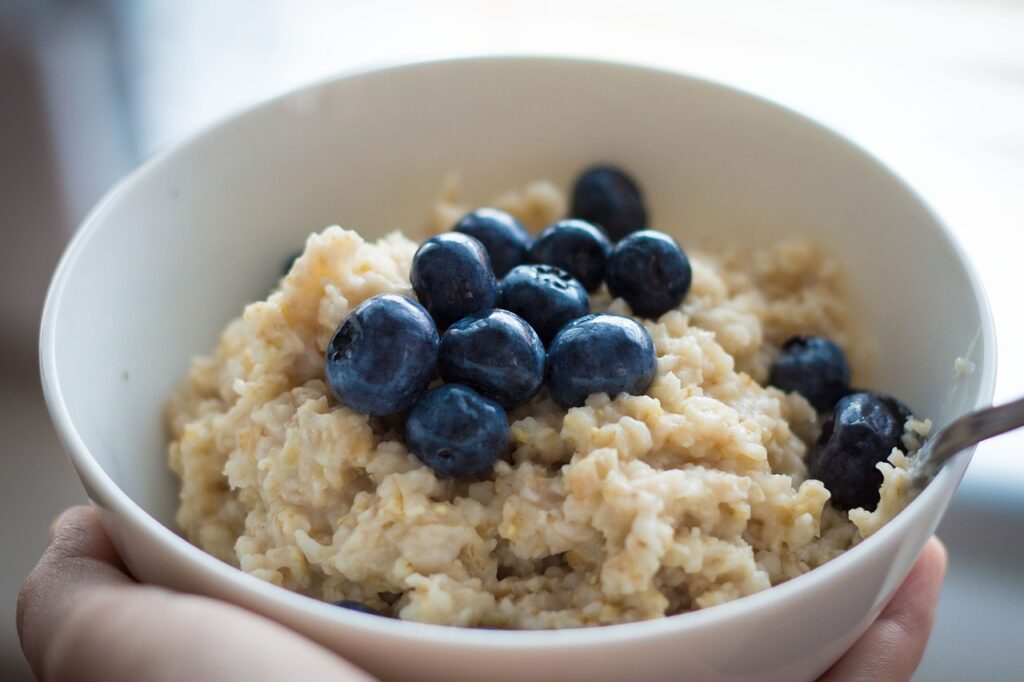 Day 1
Breakfast
Oats and Almond milk
My favourite breakfast staple when I have Gastritis or when I don't is Oats. They are easily digested, versatile and are generally tolerated by most people.
I usually have mine made with Almond milk, with a sprinkle of Cinnamon and a few slices of banana. If I am not in a flare I also like to add some blueberries or raspberries and a tablespoon of Chia seeds.
It's a great way to get some important fibre into your diet. I don't add any sugar and just get natural sweetness from the things I add.
Mid morning snack
A slice of watermelon
Lunch
One egg omelette with mushrooms
Mid afternoon snack
Wholegrain rice cake with almond butter and a sliced banana
Dinner
Oven-baked Salmon with wholegrain rice and green beans
---
Day 2
Breakfast
Slice of Wholegrain toast and a small portion of Scrambled eggs
Mid morning snac
A small bowl of chopped up Melon and Papaya
Lunch
Plain pasta (gluten-free if Gluten intolerant) a handful of spinach leaves and a small amount of shredded or sliced chicken.
It's quite plain but unfortunately, when Gastritis is at its worse (for me anyway) it's all my stomach will tolerate.
Mid-afternoon snack
Smashed avocado on a slice of wholemeal toast (gluten-free if necessary )
Dinner
Chicken stir fry – Noodles or Rice with Chicken, Broccoli and Carrots – I also added a teaspoon of Sesame oil and some chopped ginger.
---
Day 3
Breakfast
Banana and oat smoothie
Mix a ripe banana with a handful of oats (1 cup) add some almond milk and whizz together in your blender or smoothie maker. It's really delicious and not too heavy.
Mid-morning snack
Rice cake with banana slices
Lunch
Rice with courgettes (zucchini) and Broccoli. I cook the rice in some Chicken bone broth to give it more flavour.
Mid afternoon snack
Potato and sweet potato crisps – see below for the recipe
Dinner
 Plain chicken breast with Brussel sprouts and roasted sweet potato chunks
---
I will also say that the diet is quite bland with not a lot of flavours, but it worked for me and I kept telling myself that it wasn't for long. If I stuck to it for a couple of months then hopefully I would be able to return to a somewhat normal diet eventually. That's exactly what happened, I can now eat pretty much what I want and my stomach is fine.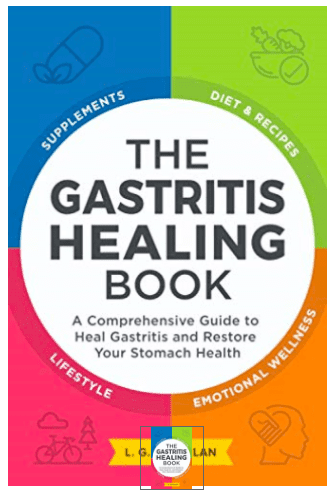 The Gastritis Healing Book
These ideas are things that worked for me and managed to keep my stomach calm and give it time to heal, but of course, everyone is different and some of these foods may not be tolerated by some people. I would recommend getting hold of a Gastritis diet book, the one I love the most is 'The Gastritis Healing book' by L.G Capellan. It has some great recipes and lists of foods that are ok and those that aren't. It helped me immensely when I was healing.
Bone Broth
One of the first things I will reach for when having a flare-up is bone broth, it's amazing stuff and soothes my stomach immediately. It contains Collagen and gelatine which are released from the bones as you cook them. These contain anti-inflammatory properties.
I make my own broth, but you can also purchase it ready-made, but you do need to be careful of the ingredients. You want to avoid anything with added Salt, Garlic and Onions. It is usually suggested you add apple cider vinegar or lemon to the broth which is generally added to help break down the collagen so that there is more of it in the broth. Not everyone with Gastritis can handle this though, I prefer to leave it out, whilst my stomach is still so sore.
For more information on making Chicken bone broth see my Step by step guide here
Potato crisps/Chips
I make some of these as a snack or for when the rest of the family are diving into crisps, chips and chocolate snacks at the weekend. They are simple to make and very satisfying.
Method
Slice the potatoes very thinly, 2 potatoes will give you a healthy portion size
Soak the slices in cold water for about 30 minutes to remove the starch, this will mean you end up with crispier crisps.
Dry the potatoes between some kitchen roll sheets or use a clean tea towel.
Pop them in a bowl and mix with a small amount of olive oil and a pinch of salt (if you can tolerate it)
Lay onto a baking tray covered in parchment paper in a single layer
Cook on 200 degrees C (UK) or 400 degrees F (USA) for about 15 minutes until they start to go brown.
Enjoy
Gastritis Diet – Sample Plan to Help you Heal